2006.05.23 02:34 PM
Catching Up
Finally got that system written up. Not my best work, I'm afraid, but at least it's out the door. Tying off some loose ends now before starting my next gig. It promises to be a really interesting project using SpreadsheetGear to perform server-side calculations for a customer-facing commercial website. Hopefully there'll be some non-NDA things in it for me to write about. In the meantime, I thought I'd dump some miscellany here that's been piling up.

Holy smokes. My C# translation of Joe Gregorio's Python-based sparklines got a mention earlier this month on Scott Hanselman's HanselMinutes weekly audio talk show. Cool. Seems he included a reference to my sparkline service in his portion of the new book ASP.NET 2.0 MVP Hacks, which he co-authored with David Yack, Joe Mayo, Fredrik Normén, Dan Wahlin, J. Ambrose Little, and Jonathan Goodyear. I ordered the book last week, bundled with Professional ASP.NET 2.0, and Amazon just emailed me that it shipped yesterday. Can't wait to see it. I really wish I'd cleaned up the code, though. Oh well. It was supposed to be just an experiment, but some folks have put it to fairly good use. Anyhow, if you haven't yet, check out Mr. Hanselman's HanselMinutes - it's really an informative show.

Now I totally understand. I'm an experiential blogger. If only my experiences were more interesting and my storytelling more compelling. And my posts more frequent. Someday I will write Hashing in .NET, Part II. I will.

Speaking of hashing in .NET, I noticed that the version 1.1 documentation for StringDictionary is wrong. It says it "Implements a hashtable with the key strongly typed to be a string rather than an object." In reality, it's not just the key that's strongly typed, the value is too. They fixed the version 2.0 documentation. While we're at it, here's something else to watch for with StringDictionary: keys are converted to lowercase when stored.

If you're like me, you probably have hundreds of user names and passwords for various web sites and systems. And, being smarter than me, you probably already keep all of these sensitive credentials in a single secure electronic safe somewhere rather than in Outlook and text files and various other home-grown databases spread out over a half dozen machines. Well, I finally wised up. Last month I grabbed a copy of the open source KeePass and spent a day moving every last piece of sensitive data I have behind its very secure and amazingly easy to use encrypted doors. I can't begin to explain how much better I feel. Too many features to list here. Highly recommended.

I'm still not getting along with my Sprint PPC-6700 Windows Mobile version 5.0 phone. Its bulk, dim display, poorly integrated interface, and cruddy JavaScript-less IE browser all keep me looking elsewhere. However, this just might get it off the hook: Geek to Live: Use your cell phone as a modem, via LifeHacker. Using the Sprint support link from the article, I first selected Windows Mobile (CE) in the dropdown and found an update that fixed a problem I was having with the phone constantly switching into flight mode (here are details regarding the update). Then, back on the first page, I selected Windows XP in the dropdown and found the update described in the article: Sprint PCS Connection Manager for Phone as Modem/USB Cables. Sure enough, it works. So next time I find myself in Reno's non-working wifi-enabled airport with EVDO availability, I'll at least have a way to get online. That helps, a little.

Speaking of Reno, my daughter and I passed through the airport there on our way to spend a few nights with Grandma, who unfortunately lives within spitting distance of an EPA Super Fund site in Yerington, Nevada. Who knew? Not me, or we would have gotten a room in Carson. (Have you ever seen a hole in the ground one mile long, one half mile wide, and 800 feet deep?) Anyhow, the museum in Yerington had a really cool old Linotype Model 5 on display.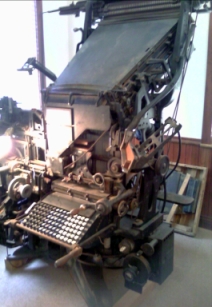 Things have sure changed for Linotype. I love the company's history:
The day Ottmar Mergenthaler demonstrated the first linecasting machine to the New York Tribune in 1886, Whitelaw Reid, the editor-in-chief, was delighted: "Ottmar," he said, "you've cast a line of type!"

The editor's words formed the basis for the company label, and marked the beginning of Linotype's success story. Four years later, the ingenious inventor founded the Mergenthaler Linotype Company. Little did he know that after more than 100 years of successful business the Linotype, a subsidiary of Heidelberger Druckmaschinen AG, would be following in his footsteps.

Today, Linotype has one of the world's largest font libraries, offering more than 6,000 high-quality typefaces.

So few of today's high-tech companies can boast of this kind of longevity. I wonder what it's like to work there?

I've been meaning to mention that Air Canada rocks. Great service, nice rides, and they ding that seat belt sign off at exactly 10,000 feet. No interminable waiting for cruising altitude like on United. Here's the catch, though. When they ding that light back on, whether for turbulence or whatever, you don't just have to sit down and buckle up, you have to put your laptops away too. Oh well. At least I didn't have to sit behind this United-flying asshat.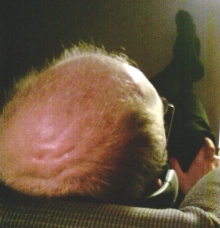 In case you can't tell, his stinky shoeless feet are propped up on the bulkhead, and his bulkhead is in my face.

Seems my daughter digs the ripe hippie avant-garde found here in Seattle. The self-described "craziness" on display at the University District StreetFair last weekend made her head spin. Me, not so much.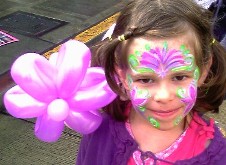 Finally, a word of warning. After goofing off in Discovery Park last week, my daughter and I stumbled onto the Hiram M. Chittenden Locks in Ballard, just around the corner from the park. Neat place. Lots to see. Unfortunately, while carefully exploring the bank at low tide, we had a little mishap that put me hands-down on the barnacles.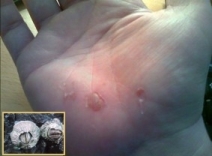 Beware the barnacles.
Comments
I do not believe this
fornetti | 2008.09.01 07:44 PM
Me either! Wait, what?
ewbi.develops | 2008.10.21 07:16 PM
TrackBack
TrackBack URL: https://www.typepad.com/services/trackback/6a00d8341c7bd453ef00d8352d056353ef
Listed below are links to weblogs that reference Catching Up: