2006.03.01 11:57 AM
Motorola HS850 Giveaway Gaveaway
Update 3/6/2006 10:45:00AM
What an exciting morning. As planned, the submissions were separated and dropped into a box. Four names went in: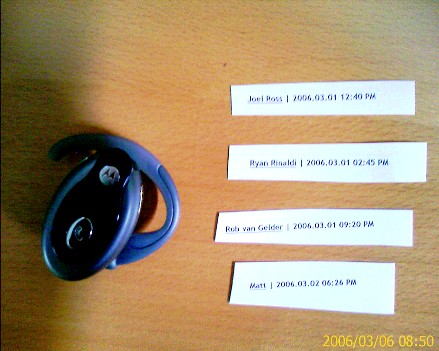 And only one came out: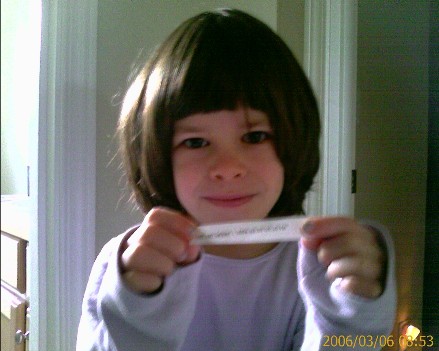 Congratulations, Rob van Gelder! (Yeah, I know, my phone camera sucks.)
Here's my wee assistant prepared to unleash willful violence on some unsuspecting electronic equipment (note the reduced hammer size; the 8lb'er was a little too hefty):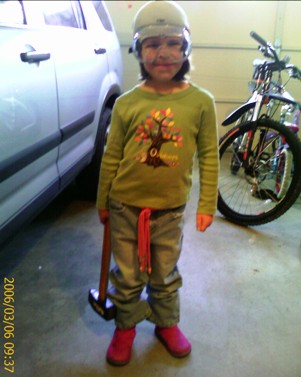 The little sucker proved to be a surprisingly tough nut to crack, requiring lots o' whacking, but ultimately the hammer prevailed (with a little help from Dad). Unfortunately the smashing wasn't as dramatic as hoped (and if I ever figure out how to edit an MP4 you'll see), but the results were still satisfying: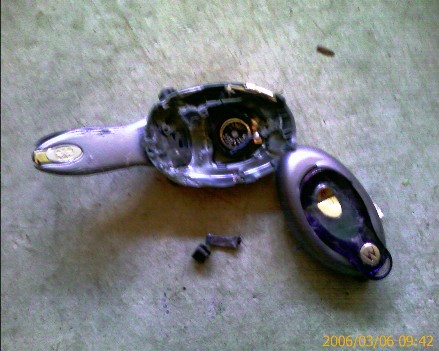 Thanks for playing!
---
In January I bought a Motorola HS850 Bluetooth headset while at the airport (back when they were still $99). After charging it up in the Red Carpet Club for a couple of hours, I got it working with my Sprint PPC 6700 pretty easily and made a couple of calls. Everything worked well, but I couldn't get used to the fit. Maybe I have square ears.
Anyway, it's too late to return it and I'm never going to use it, so I'm giving it away. Here's the deal:
If you want it (where "it" means the headset, charger, and a small manual) and are prepared to pay for the COD shipping to get it, then leave a comment below with your email address by 8AM Pacific time Monday morning, March 6, 2006. At that time I will print the comments, clip them apart, drop them in a bag, mix them up, and let my 5 year old daughter pull one out. If she pulls out your comment, I'll contact you to find out how you want it shipped. Simple as that.
If no one leaves a comment, well then pffft. I'll let my daughter drop an 8 lb sledge on it in the garage.
Good luck.
Comments
I'd love to have it! Thanks for the opportunity!
Joel Ross | 2006.03.01 12:40 PM
DOH! I was hoping to see a video of your daughter dropping an 8lb sledge on it. Joel had to go and comment on your post.
How about this? You put my name in the hat, and if your daughter pulls my name, I humbly request that she is allowed to break it into a million pieces. :)
Ryan Rinaldi | 2006.03.01 02:45 PM
Ryan - deal.
ewbi.develops | 2006.03.01 02:51 PM
Eric: Yep, what Ryan said. Smash it - with pics please?
Hope your daughter has PPE, cause it's 2:1 now
:)

Rob van Gelder | 2006.03.01 09:20 PM
Rob - thanks for entering, and for the concern; goggles and a camera will both definitely be deployed.
ewbi.develops | 2006.03.02 01:13 AM
Hey, ill take you up on the offer :)
Matt | 2006.03.02 06:26 PM
And we have a winner! As soon as I get my assistant through breakfast we'll post some pics.
ewbi.develops | 2006.03.06 08:55 AM
Wooohoooo!
Look at the smile on your face. Oh, the power of the sledge hammer.
That cellphone is history! Well done!
That's way more fun than I would have had with the cellphone.
Great job!
Rob van Gelder | 2006.03.06 10:05 PM
TrackBack
TrackBack URL: https://www.typepad.com/services/trackback/6a00d8341c7bd453ef00d834af361969e2
Listed below are links to weblogs that reference Motorola HS850 Giveaway Gaveaway: