2005.11.07 02:59 PM
The Eagle Has Landed
What a move. I've been desperately trying to find time to write since arriving last month, but have been completely backed up with work. I've got a million things to write about and the comments to this site have piled up and really need attention, so I'm just going to put this out here and hope it breaks the log jam.

Roger and Me
Thanks, thanks, and more thanks to my old pal Roger, a Washington native and friend for over 20 years, for flying out to Chicago and making the drive with me, the CRV, cat, and plants. What a drag those 2,100 miles would have been without Roger's company, not to mention his thousands of MP3s and GPS-enabled copy of Microsoft Streets and Trips, the latter of which had a really spooky way of consistently foretelling our arrival times regardless of what time-wasting activities we engaged in along the way. Roger, I am eternally indebted.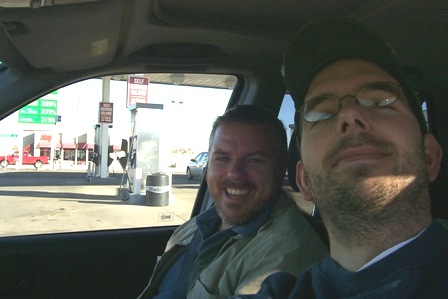 Roger's the respectable one on the left.

North Dakota
North Dakota is one long flat ride. Luckily, we did the first half in the dark, allowing us to pretend it was interesting. We stopped in Bismarck around 9:00PM, snuck the cat into some no-pets-allowed hotel, and grabbed dinner at Applebee's (a rare exception to our All-Subway-All-The-Time dining agenda). While there we asked our waiter, a nice young fellow, where we might find a coffeehouse with internet access in Bismarck (we didn't realize then that our hotel had wifi). He seemed somewhat confused by the question, but did eventually give us directions to a coffeehouse downtown he thought might work and then suggested that our best bet might be to try the "library". Huh? When he returned with our food, he broached the topic again by asking, "Do you guys have your own computers?" "Well, uh, yes," we answered. "Oh, wow! Well, then you can use them to get on the internet in a coffeehouse right around the corner." Leaving us to wonder whether personal computer ownership is still a rare thing in Bismarck?
Anyhow, our hotel did have wifi, so we were able to check email. That's when I discovered that my client's Windows desktop survey app, which I'd started earlier in the week and left to someone else to finish for the next day, was in fact not done by that someone else. So instead of sleeping, I spent the next four hours desperately coding my ass off. When I finally finished around 2:30AM, I discovered that the hotel's network had gone down. The kid at the counter was already on it and assured me it would be back up by 3:00AM. It wasn't. By 3:30AM it was still down and I was getting desperate, so I enabled the Thinkpad's modem and configured a dial-up using an old Earthlink account I've had since 1996. The only dial-up number I had with me was for a little town south of Kansas City, Missouri, which I'd last used sometime in the late 90s. Surprisingly, it still worked and I got a connection, which I used to find a dial-up number in Bismarck, and using the resulting 28.8Kb(!) connection, I was able to establish a VPN connection and send the 1.5MB app to my client by 4:30AM. Goodnight, Bismarck!
Anyhow, that's all just a long winded way of explaining why I look like shit in the picture above, which was taken around 9:00AM as we got back on the road.
Lest I leave you with the impression that North Dakota is all crap, let me introduce Sue, the 38'x50' Holstein cow located on School Hill near New Salem. This is one big damn cow, made to seem all the bigger by being situated atop one of the few hills dotting North Dakota's otherwise table-top flat landscape. If you get a second, check out the virtual tour. Good times, good times.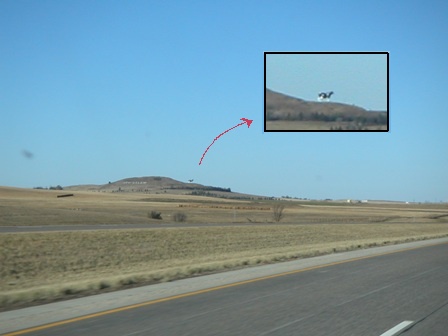 Giant cow.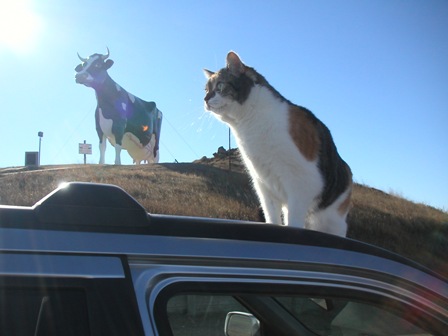 Giant cat.
Further on down the road, we found this. Not sure what they had in mind, but like Sue, it was damn big (check out the size of the ordinarily large hay bail at its base).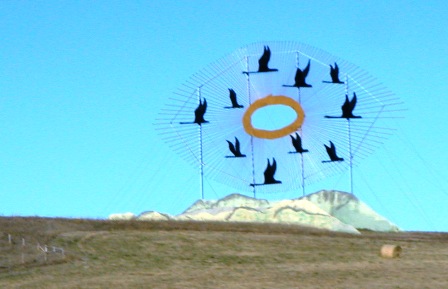 "Yeah, sure, and birds might fly out of my ass."

Montana
Wow. Montana proved to be everything I ever imagined and much, much more. Unbelievable.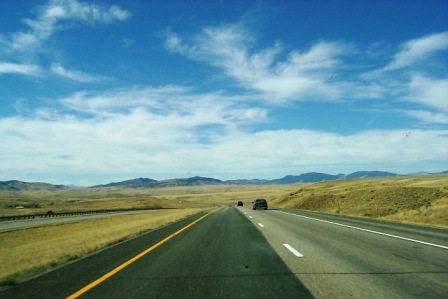 Big Sky, indeed.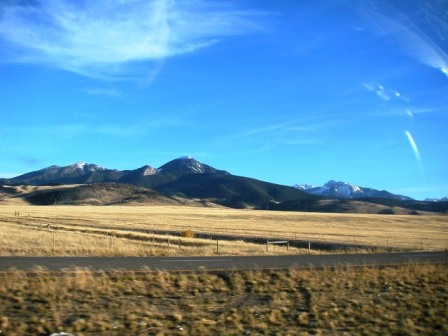 It ain't North Dakota.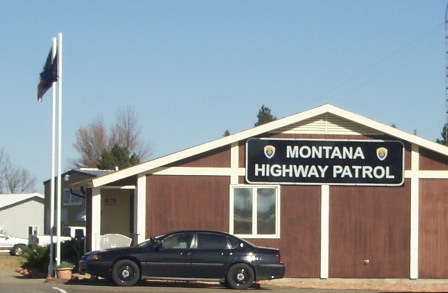 "The speed limit's really not 100, sir?"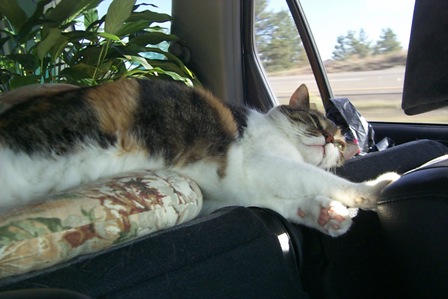 It's good to be a cat.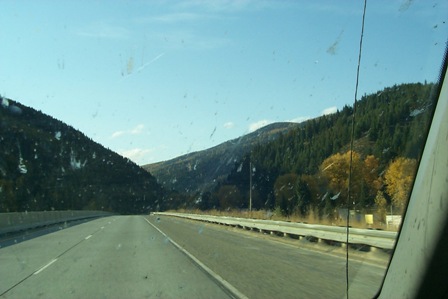 That's not snow all over the windshield.

Washington
I only got one shot of Washington, which we traveled through mostly in the dark (but that's still infinitely more pictures than I got of Illinois, Wisconsin, and Minnesota). I grabbed this shot because the landscape really took me by surprise. When I think of Washington, I think Cascades, Olympics, Mt. Rainer, etc., I do not think of North Dakota-like moonscapes. Yet, that's what I discovered in eastern Washington - all desert and plains. Wild.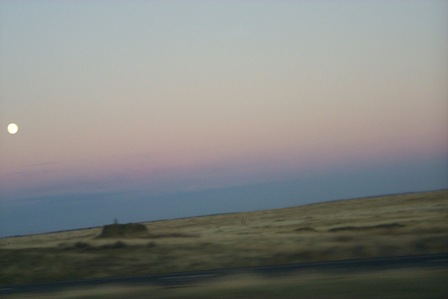 North Dakota? No, Washington!

Bekins Sucked
I don't want to end on a bad note, but I promised my wife I would at least mention that our experience with mover Boyer-Rosene Moving and Storage, Inc. sucked. It isn't really necessary for me to say a lot about them, as a lot of folks have already taken their time to describe the brilliantly rotten service they received from Bekins and their affiliate Boyer-Rosene. There's not much I can add to those opinions, except to urge you to believe them.

What's Next?
ComCast couldn't get my cable modem's MAC released in Illinois (idiots), so I wound up working out of a Panera in Redmond for a week. Interestingly, this is the first Panera in Washington. I tried explaining to Roger that they're on every corner in the midwest, kind of like Starbucks. And, in addition to having great salads, most of them offer free wifi (as opposed to Starbucks, where you usually have to pay to connect). Anyhow, I was there during the Redmond store's opening week, which was good because they kept handing out free cookies and muffins and stuff, but it was bad because it was packed with Northwesterners wanting to check it out. Having put on more than a few pounds there, and being told multiple times by my four year old that I smelled like muffins, I finally bought a new cable modem (with a new MAC address) and got hooked up at home.
My office is still mostly in boxes.
I've already had to make a trip back to Louisville for a client, and I have to travel to Toronto in a couple of weeks.
The difference in time zones is proving to be a harsh pill to swallow.
My coffee intake has spiked dangerously. I've found Tully's to be the most palatable of the Northwestern coffees (Starbucks coffee tastes like burnt Vienna Sausages to me). It's no Dunkin' Donuts, but then what is?
And, yes, it does rain all the time.
My cell phone number is still in Illinois, but after six years (don't laugh) I've finally gotten a new phone. I'll have more to say about my new Sprint PPC-6700 later. Unfortunately, it ain't all good.
I've tackled a half dozen interesting .NET Windows Forms issues over the last couple of weeks while writing an odd little kiosk application for the Office of Zoning of one of America's largest cities (not sure I can publicly say which one, yet). I'm dying to write about some of the things I discovered (rediscovered?) while screwing with desktops, winstations, processes, and shell automation. Also, there are a couple of interesting things about that survey app I did in Bismarck that I'll try to share soon, too.
Comments
TrackBack
TrackBack URL: https://www.typepad.com/services/trackback/6a00d8341c7bd453ef00d83521eaf753ef
Listed below are links to weblogs that reference The Eagle Has Landed: