2004.09.16 10:05 AM
Dumb Windows Message #2
Well, actually, it's a dumb Windows message triggered by even dumber Outlook logic.
After adding a valid telephone number to an existing Outlook contact, I get this dialog: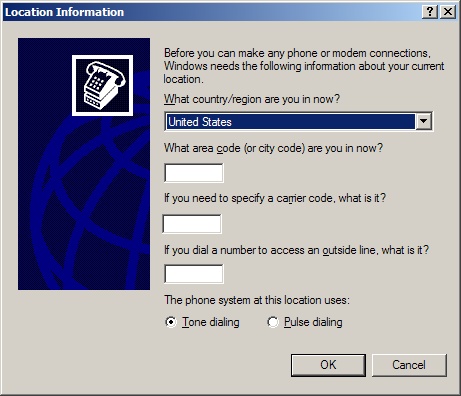 Apparently I haven't configured the Windows dialer yet (why would I?) or added a phone number to any Outlook contacts since configuring my new portable. Before Outlook will let me add a new number, it wants the dialer's location information filled in. Forget the fact that I'm not dialing anything, have no plans to dial anything, and that Outlook is already happily populated with hundreds of contacts with telephone numbers without the dialer being configured. Whatever.
Here's the real beauty, though. Clicking Cancel gets me this:

Well, true to this ridiculously long and obtuse message, it matters not which button I click. They both take me back to the first Location Information dialog.
Dumb logic, dumb message.
Comments
I'm checking the 'Net trying to find out how to kill that POS. The only way out I know is to bounce Outlook.
Don | 2006.07.02 10:20 PM
Hahahaha windows sucks
YO | 2007.12.16 10:43 AM
"my new portable."
Love how windows wants Location information on a portable device
Naz | 2008.01.13 03:48 PM
You`re a Boob. This is for configuring dialup DUMBASS!

Ted | 2008.11.22 10:36 PM
Insightful, Ted, really. Thanks so much for sharing.
ewbi.develops | 2008.11.23 08:52 PM
naz is right
James Green | 2009.05.03 11:51 AM
outlook is for retards
i like bewbs | 2009.05.05 11:50 PM
Yeah totally, that guy in the box with the mic. he is a deadset [email protected]( I don't deal with his group of cronies any more
ben | 2009.12.06 09:41 AM
TrackBack
TrackBack URL: https://www.typepad.com/services/trackback/6a00d8341c7bd453ef00d834d232d069e2
Listed below are links to weblogs that reference Dumb Windows Message #2: